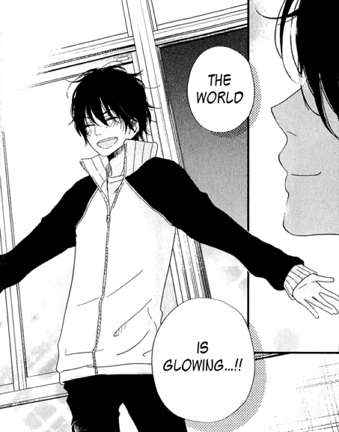 Sometimes I feel like blogging, but then I think about all the stuff that I
should
write about/catch up on.....
But I've made up a resolution now, that even if it's two-sentence, I'm going to type it up!
Anyways, this is Yoshida Haru from Tonari no Kaibutsu-kun C:
It's such a cute series :D I remember starting to read it a while ago, when
Titania
only released up to chapter 4.
I'm happy to revisit the series and continue <3
I have to say that I totally ship Haru x Shizuku, but Yamaken x Shizuku is totally acceptable in my book too haha
SPOILER: Though with the current chapter (33), it breaks my heart that Yamaken won't stay friends ;n;
That Yamaken is pretty darn cute :B I was cheering him on too, but I knew it wouldn't work out for sure :p
Chapter 31 made me laugh out loud hahaha The pre-, during, and post-confession is just so damn cute lolss
If only it could be Haru x Shizuku x Yamaken LOL
Gotta go join some fanlistings now :p
Current Mood:
content
Current Music: 林俊傑 "故事細膩"